CARBON MONOXIDE ALARM (ISL EM1040)
The ISL EM1040 Carbon Monoxide Alarm is designed to detect carbon monoxide gas from any source of combustion.
The device uses an electrochemical sensor.
It will operate on a LoRaWAN net-work, but for safety reasons, damage to the LoRaWAN module will not affect the main function of the alarm, only affect the related module functions.
For indoor use

Electrochemical sensor

Sensitivity setting conforms to EN 50291-1:2010+A1:2012 standard:

30ppm without alarm before 120 minutes

50ppm between 60 to 90 minutes

100ppm between 10 to 40 minutes

300ppm less than 3 minutes

Alarm sound of ≥ 85 dB at 100cm @3.2±0.5kHz pulsing alarm

Red alarm LED indicator

Yellow fault LED

Green power LED flashes every 30 seconds

Test/silence button

Low standby current, long battery life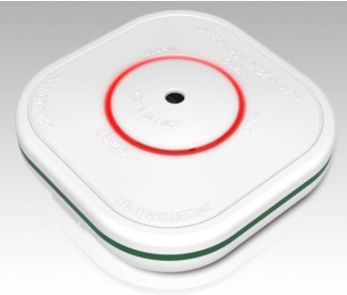 LONG BATTERY LIFE
Our sensors have been designed to have a battery life of up to 10 years, so you don't have to worry about changing them frequently.

PROACTIVE ALARM SYSTEM
Pro-active alerts ensure that your team can prevent any critical level breaches.

PROVEN PARTNER
Invisible Systems are trusted by clients in both the public and private sectors. You can rely on us to deliver an outstanding level of service.

PERSONALISED DASHBOARDS
Our online monitoring software, Realtime Online is set-up to meet the specific needs of your organisation.

SIMPLE SET-UP
Our sensors are easy to set up and do not require integration with your existing IT infrastructure.

LOWER COSTS
Choosing wireless sensors and a cloud platform enables you to reduce your installation and maintenance costs.
CONFIGURABLE THRESHOLDS
Configurable high/low thresholds allow different transmit intervals when thresholds are crossed providing advanced edge intelligence to the network, and enable alarms to be generated by Realtime-Online™.
D
ata from every sensor in your network is reported back through Invisible Systems Big Data architecture either to our Monitoring and Analytics platform Realtime-Online™, or to a partner cloud platform via our API, ensuring that your data is visible, actionable and valuable to your organisation.
LORAWAN
The ISLEM1040 is a LoRaWAN certified device and Invisible Systems are members of the LoRa alliance. It offers both ABP and OTAA activation options and is designed to work with all LoRaWAN gateways and network servers.
COMMS

Frequency: EU868

Activation: OTAA

ENVIRONMENTAL

Dimensions: 95x95x34mm

Operating temperature range: -10°C to +45°C

Operating relative humidity range: 30 to 95%RH, non-condensing

Storage conditions: -20 to +50°C, 10 to 95%RH, non-condensing

Sensor type: Electrochemical

Sensitivity: 30ppm without alarm before 120 minutes, 50ppm between 60 to 90 minutes, 100ppm between 10 to 40 minutes, 300ppm less than 3 minutes

Alarm volume: ≥85dB@100cm @3.2±0.5kHz pulsing alarm

CO alarm silence: Approx. 5 minutes

Batteries: 3VDC (2 x alkaline AA cells)

Standby current: ≤50μA

Alarm current: ≤20mA

Product life: 10 years after initial power up

LEDs: Green - power | Yellow - fault | Red - alarm

Test/silence button: Yes