TEMPERATURE LOGGER (124G)
Designed to accurately monitor the temperature of mission critical refrigeration units, ensuring that the contents remain at the critical temperature required for your application. The ISL124G is battery powered, wireless and simple to install at any location.
External temperature probe

Battery powered

Wall bracket mounting options

Temperature alarm threshold hysteresis

Temperature Edge Intelligence (thresholds – warning, alarm)

Available as a 'data as a service' offering

Configurable transmit interval for each mode (standard, warning and alarm)

Configured over the air from ISL LoRa™ USB dongle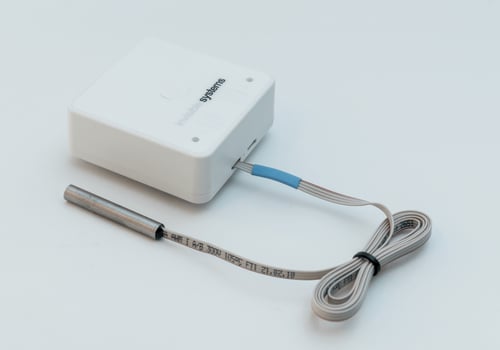 LONG BATTERY LIFE
Our sensors have been designed to have a battery life of up to 10 years, so you don't have to worry about changing them frequently.

LOWER COSTS
Choosing wireless sensors and a cloud platform enables you to reduce your installation and maintenance costs.

SIMPLE SET-UP
Our sensors are easy to set up and do not require integration with your existing IT infrastructure.

PERSONALISED DASHBOARDS
Our online monitoring software, Realtime Online is set-up to meet the specific needs of your organisation.

PROVEN PARTNER
At Invisible Systems, we've worked in IoT for over 17 years. Our solutions have a proven track record in supporting businesses.

PROACTIVE ALARM SYSTEM
Pro-active alerts ensure that your team can prevent any critical level breaches.
CONFIGURABLE THRESHOLDS
Configurable high/low thresholds allow different transmit intervals when thresholds are crossed providing advanced edge intelligence to the network, and enable alarms to be generated by Realtime-Online™.
D
ata from every sensor in your network is reported back through Invisible Systems Big Data architecture either to our Monitoring and Analytics platform Realtime-Online™, or to a partner cloud platform via our API, ensuring that your data is visible, actionable and valuable to your organisation.
LORA
The 124G transmitter connects to the cloud via Invisible Systems cellular LoRa™ gateways, providing low power, reliable communication and long battery life. Invisible Systems can provide their in-house built Realtime-Online™ cloud portal to make this an ideal low-cost end-to-end solution.
LORAWAN
The ISL124G is a LoRaWAN certified device and Invisible Systems are members of the LoRa alliance. It offers both ABP and OTAA activation options and is designed to work with all LoRaWAN gateways and network servers.
COMMS

Frequency/Band (LoRa): EU 868Mhz Other regions available on request

Frequency/Band (LoRaWAN): EU863-870 Other regions available on request

Expected range (line of sight): Up to 10km

Power: LoRaWAN 25mW (14 dBm) LoRa: 100mW (20 dBm)

APPROVALS

Approvals: CE, FCC, IC, Other regions available on request

FCC ID: Contains module VPYCMABZ

ICID: Contains module 722C-CMABZ

ENVIRONMENTAL

Dimensions (mm): 70x70x24 (excl bracket)

Enclosure colour: White

Enclosure plastic type: ABS

Operating Temp Range: -20°C to +60°C

Operating Humidity Range: 30% RH to 90% RH

Battery: 1 x AA (2400 mAh)

Batteries type: Lithium Thionyl Chloride (Non rechargeable)

Expected battery life, 6 min Tx interval: Up to 1.8 years

Expected battery life, 6 hour Tx interval: Up to 10 years

Operating lifetime: Up to 10 years

Power type: Battery 3.6VDC

SENSOR FEATURES

Measurement interval range: 10 secs - 60 mins

Tx interval range (multiple of measure intervals): 1 min - 6 hours

TEMPERATURE

Measurement Range: -20°C to +60°C

Accuracy: ±0.25°C (typical) from -40°C to +125°C
±0.5°C (maximum) from -20°C to +100°C
±1°C (maximum) from -40°C to +125°C

Resolution/Step-size: 0.1°C

Drift: < 0.05 oC over lifetime


Sensor characteristics: Digital

Calibration: Optional

Probe: 1m PVC Ribbon with 7mm diameter stainless
steel pocket probe

OPTIONAL INPUTS

Door contact: 1 x external magnetic switch contact

Cable: 1m PVC Ribbon